Quick comment: October is the BEST MONTH for New Releases! I've been saving every gift card and every penny just for this month. Be careful for how far you scroll down, or you might spend all your money!!!
Blood of Olymus by Rick Riordan
Release Date: October 7th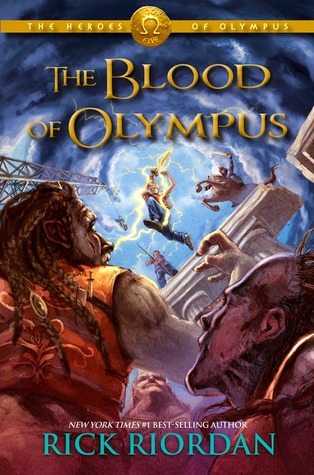 Though the Greek and Roman crewmembers of the Argo II have made progress in their many quests, they still seem no closer to defeating the earth mother, Gaea. Her giants have risen—all of them—and they're stronger than ever. They must be stopped before the Feast of Spes, when Gaea plans to have two demigods sacrificed in Athens. She needs their blood—the blood of Olympus—in order to wake.
The demigods are having more frequent visions of a terrible battle at Camp Half-Blood. The Roman legion from Camp Jupiter, led by Octavian, is almost within striking distance. Though it is tempting to take the Athena Parthenos to Athens to use as a secret weapon, the friends know that the hug
e statue belongs back on Long Island, where it "might" be able to stop a war between the two camps.
The Athena Parthenos will go west; the Argo II will go east. The gods, still suffering from multiple personality disorder, are useless. How can a handful of young demigods hope to persevere against Gaea's army of powerful giants? As dangerous as it is to head to Athens, they have no other option. They have sacrificed too much already. And if Gaea wakes, it is game over.
Young Elites by Marie Lu
Release Date: October 7th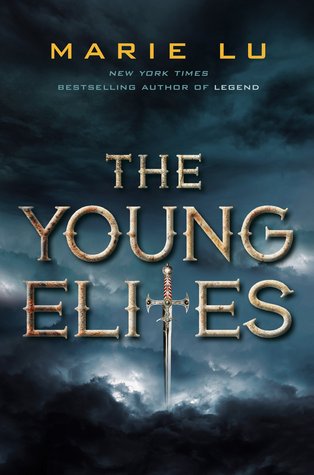 Adelina Amouteru is a survivor of the blood fever. A decade ago, the deadly illness swept through her nation. Most of the infected perished, while many of
the children who survived were left with strange markings. Adelina's black hair turned silver, her lashes went pale, and now she has only a jagged scar where her left eye once was. Her cruel father believes she is a malfetto, an abomination, ruining their family's good name and standing in the way of their fortune. But some of the fever's survivors are rumored to possess more than just scars—they are believed to have mysterious and powerful gifts, and though their identities remain secret, they have come to be called the Young Elites.
Teren Santoro works for the king. As Leader of the Inquisition Axis, it is his job to seek out the Young Elites, to destroy them before they destroy the nation. He believes the Young Elites to be dangerous and vengeful, but it's Teren who may possess the darkest secret of all.
Enzo Valenciano is a member of the Dagger Society. This secret sect of Young Elites seeks out others like them before the Inquisition Axis can. But when the Daggers find Adelina, they discover someone with powers like they've never seen.
Adelina wants to believe Enzo is on her side, and that Teren is the true enemy. But the lives of these three will collide in unexpected ways, as each fights a very different and personal battle. But of one thing they are all certain: Adelina has abilities that shouldn't belong in this world. A vengeful blackness in her heart. And a desire to destroy all who dare to cross her.
It is my turn to use. My turn to hurt.
Atlantia by A
lly Condie
Release Date: October 28th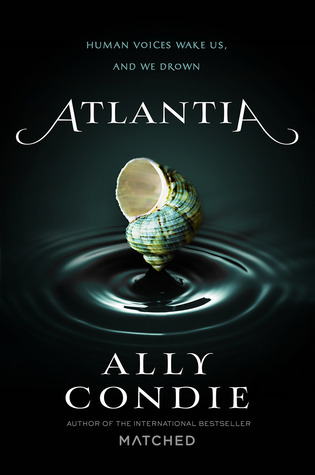 For as long as she can remember, Rio has dreamt of the sand and sky Above—of life beyond her underwater city of Atlantia. But in a single moment, all her plans for the future are thwarted when her twin sister, Bay, makes an unexpected decision, stranding Rio Below. Alone, ripped away from the last person who knew Rio's true self—and the powerful siren voice she has long hidden—she has nothing left to lose.
Guided by a dangerous and unlikely mentor, Rio formulates a plan that leads to increasingly treacherous questions about her mother's death, her own destiny, and the complex system constructed to govern the divide between land and sea. Her life and her city depend on Rio to listen to the voices of the past and to speak long-hidden truths.
The Body Electric by Beth Revis
Release Date: October 6th
Ella Shepherd has dedicated her life to using her unique gift—the ability to enter people's dreams and memories using technology developed by her mother—to help others relive their happy memories.
But not all is at it seems.
Ella starts seeing impossible things—images of her dead father, warnings of who she cannot trust. Her government recruits her to spy on a rebel group, using her ability to experience—and influence—the memories of traitors. But the leader of the rebels claims they used to be in love—even though Ella's never met him before in her life. Which can only mean one thing…
Someone's altered her memory.
Ella's gift is enough to overthrow a corrupt government or crush a growing rebel group. She is the key to stopping a war she didn't even know was happening. But if someone else has been inside Ella's head, she cannot trust her own memories, thoughts, or feelings.
So who can she trust?
The Paris Mysteries by James Patterson
Release Date: October 6th
The City of Lights sets the stage for romance, drama and intrigue in the latest Confessions novel from the world's bestselling mystery writer!
After investigating multiple homicides and her family's decades-old skeletons in the closet, Tandy Angel is finally reunited with her lost love in Paris. But as he grows increasingly distant, Tandy is confronted with disturbing questions a
bout him, as well as what really happened to her long-dead sister. With no way to tell anymore who in her life she can trust, how will Tandy ever get to the bottom of the countless secrets her parents kept from her? James Patterson leads this brilliant teenage detective through Paris on a trail of lies years in the making, with shocking revelations around every corner.
The Rouge Knight by Brandon Mull
Release Date: October 21st
Magic and danger abound in the second book in a series of fanciful, action-packed adventure; (Publishers Weekly, starred review) from the #1 New York Times bestselling author of the Fablehaven and Beyonders series.
Cole Randolph never meant to come to The Outskirts, but when his friends were kidnapped on Halloween he had to try and save them. Now he's trapped in a world that lies between wakefulness and dreaming, reality and imagination, life and death.
Cole's search for his friends has led him to Elloweer, another of the five kingdoms that make up The Outskirts. He's accompanied by Mira, Twitch, and Jace, new friends he's met here in the Outskirts who each have their own important missions.
The group is following news that Mira's sister, Honor, could be in danger. However, Cole and Mira are soon the ones facing direct threat, and must resort to a fascinating new kind of magic to protect themselves. Their journey brings them across familiar faces, some more welcome than others, until their paths ultimately cross with the infamous man known throughout Elloweer as the Rogue Knight.
Will he turn out to be an unstoppable enemy, or a key ally?
Every move is filled with danger as Cole and his new friends try and outwit the High King, who will stop at nothing to regain what he has lost.