10. The Secret Garden by Frances Hodgson Burnett
When orphaned Mary Lennox comes to live at her uncle's great house on the Yorkshire Moors, she finds it full of secrets. The mansion has nearly one hundred rooms, and her uncle keeps himself locked up. And at night, she hears the sound of crying down one of the long corridors.
The gardens surrounding the large property are Mary's only escape. Then, Mary discovers a secret garden, surrounded by walls and locked with a missing key. One day, with the help of two unexpected companions, she discovers a way in. Is everything in the garden dead, or can Mary bring it back to life?
9. To Kill A Mockingbird by Harper Lee
The unforgettable novel of a childhood in a sleepy Southern town and the crisis of conscience that rocked it, To Kill A Mockingbird became both an instant bestseller and a critical success when it was first published in 1960. It went on to win the Pulitzer Prize in 1961 and was later made into an Academy Award-winning film, also a classic.
Compassionate, dramatic, and deeply moving, To Kill A Mockingbird takes readers to the roots of human behavior - to innocence and experience, kindness and cruelty, love and hatred, humor and pathos.
8. Black Beauty by Anna Sewell
A horse is
a horse of course unless of course the horse is Black Beauty. Animal-loving children have been devoted to Black Beauty throughout this century, and no doubt will continue through the next.
Although Anna Sewell's classic paints a clear picture of turn-of-the-century London, its message is universal and timeless: animals will serve humans well if they are treated with consideration and kindness.
Black Beauty tells the story of the horse's own long and varied life, from a well-born colt in a pleasant meadow to an elegant carriage horse for a gentleman to a painfully overworked cab horse.
Throughout, Sewell rails - in a gentle, 19th-century way - against animal maltreatment. Young readers will follow Black Beauty's fortunes, good and bad, with gentle masters as well as cruel. Children can easily make the leap from horse-human relationships to human-human relationships, and begin to understand how their own consideration of others may be a benefit to all.
7. Scarlet Letter by Nathaniel Hawthorne
Hailed by Henry James as "the finest piece of imaginative writing yet put forth in the country," Nathaniel Hawthorne's The Scarlet Letter reaches to our nati
on's historical and moral roots for the material of great tragedy. Set in an early New England colony, the novel shows the terrible impact a single, passionate act has on the lives of three members of the community: the defiant Hester Prynne; the fiery, tortured Reverend Dimmesdale; and the obsessed, vengeful Chillingworth.
With The Scarlet Letter, Hawthorne became the first American novelist to forge from our Puritan heritage a universal classic, a masterful exploration of humanity's unending struggle with sin, guilt and pride.
6. Emma by Jane Austen
'I never have been in love; it is not my way, or my nature; and I do not think I ever shall.'
Beautiful, clever, rich - and single - Emma Woodhouse is perfectly content with her life and sees no need for either love or marriage. Nothing, however, delights her more than interfering in the romantic lives of others. But when she ignores the warnings of her good friend Mr Knightley and attempts to arrange a suitable match for her protegee Harriet Smith, her carefully laid plans soon unravel and have consequences that she never expected. With its imperfect but charming heroine and its witty and subtle exploration of relationships, Emma is often seen as Jane Austen's most flawless work.
5. The Hound of the Baskervilles by Arthur Conan Doyle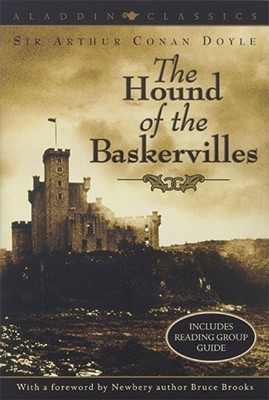 We owe The Hound of the Baskervilles (1902) to Arthur Conan Doyle's good friend Fletcher "Bobbles" Robinson, who took him to visit some scary English moors and prehistoric ruins, and told him marvelous local legends about escaped prisoners and a 17th-century aristocrat who fell afoul of the family dog. Doyle transmogrified the legend: generations ago, a hound of hell tore out the throat of devilish Hugo Baskerville on the moonlit moor. Poor, accursed Baskerville Hall now has another mysterious death: that of Sir Charles Baskerville. Could the culprit somehow be mixed up with secretive servant Barrymore, history-obsessed Dr. Frankland, butterfly-chasing Stapleton, or Selden, the Notting Hill murderer at large? Someone's been signaling with candles from the mansion's windows. Nor can supernatural forces be ruled out. Can Dr. Watson--left alone by Sherlock Holmes to sleuth in fear for much of the novel--save the next Baskerville, Sir Henry, from the hound's fangs?
Many Holmes fans prefer Doyle's complete short stories, but their clockwork logic doesn't match the author's boast about this novel: it's "a real Creeper!" What distinguishes this particular Hound is its fulfillment of Doyle's great debt to Edgar Allan Poe--it's full of ancient woe, low moans, a Grimpen Mire that sucks ponies to Dostoyevskian deaths, and locals digging up Neolithic skulls without next-of-kins' consent. "The longer one stays here the more does the spirit of the moor sink into one's soul," Watson realizes. "Rank reeds and lush, slimy water-plants sent an odour of decay ... while a false step plunged us more than once thigh-deep into the dark, quivering mire, which shook for yards in soft undulations around our feet ... it was as if some malignant hand was tugging us down into those obscene depths." Read on--but, reader, watch your step! --Tim Appelo
4. Les Misérables by Victor Hugo
Introducing one of the most famous characters in literature, Jean Valjean - the noble peasant imprisoned for stealing a loaf of bread - Les Misérables (1862) ranks among the greatest novels of all time. In it Victor Hugo takes readers deep into the Parisian underworld, immerses them in a battle between good and evil, and carries them onto the barricades during the uprising of 1832 with a breathtaking realism that is unsurpassed in modern prose.
Within his dramatic story are themes that capture the intellect and the emotions: crime and punishment, the relentless persecution of Valjean by Inspector Javert, the desperation of the prostitute Fantine, the amorality of the rogue Thénardier and the universal desire to escape the prisons of our own minds. Les Misérables gave Victor Hugo a canvas upon which he portrayed his criticism of the French political and judicial systems, but the portrait which resulted is larger than life, epic in scope - an extravagant spectacle that dazzles the senses even as it touches the heart.
This Signet Classic edition is a new version translated by Lee Fahnestock and Norman MacAfee, based on the classic nineteenth-century Charles E. Wilbour translation.
3. Fahrenheit 451 by Ray Bradbury
Guy Montag is a fireman. His job is to burn books, which are forbidden, being the source of all discord and unhappiness. Even so, Montag is unhappy; there is discord in his marriage. Are books hidden in his house? The Mechanical Hound of the Fire Department, armed with a lethal hypodermic, escorted by helicopters, is ready to track down those dissidents who defy society to preserve and read books.
The classic dystopian novel of a post-literate future, Fahrenheit 451 stands alongside Orwell's 1984 and Huxley's Brave New World as a prophetic account of Western civilization's enslavement by the media, drugs and conformity.
Bradbury's powerful and poetic prose combines with uncanny insight into the potential of technology to create a novel which, decades on from first publication, still has the power to dazzle and shock.
2. Count of Monte Cristo by Alexandre Dumas
'On what slender threads do life and fortune hang'
Thrown in prison for a crime he has not committed, Edmond Dantès is confined to the grim fortress of If. There he learns of a great hoard of treasure hid
den on the Isle of Monte Cristo and he becomes determined not only to escape, but also to unearth the treasure and use it to plot the destruction of the three men responsible for his incarceration. Dumas' epic tale of suffering and retribution, inspired by a real-life case of wrongful imprisonment, was a huge popular success when it was first serialised in the 1840s.
1. The Adventures of Sherlock Holmes by Arthur Conan Doyle
The Adventures of Sherlock Holmes is the series of short stories that made the fortunes of the Strand magazine, in which they were first published, and won immense popularity for Sherlock Holmes and Dr Watson. The detective is at the height of his powers and the volume is full of famous cases, including 'The Red-Headed League', 'The Blue Carbuncle', and 'The Speckled Band'. Although Holmes gained a reputation for infallibility, Conan Doyle showed his own realism and feminism by having the great detective defeated by Irene Adler - the woman - in the very first story, 'A Scandal in Bohemia'.