Introduction:
So, I've been looking around at all of the movies coming out soon, and it seems like we have faded from sci-fi dystopia into fairytale retellings. Maleficent has already been released, and Into the Woods is coming soon. 2015 is full of fairytale retellings, including Belle, starring Emma Watson, Cinderella, and many Peter Pan movies, with a Sleeping Beauty retelling also. I am so excited for this because my favorite genre is fairytale retellings. My absolute favorite fairytale to read about would have to be Beauty and the Beast, but I have thrown in some other fairytales that should satisfy your tastes. Some have been bestsellers, and some are not as popular as I believe they deserve to be.
10. Princess of The Midnight Ball by Jessica Day George
A tale of twelve princesses doomed to dance until dawn…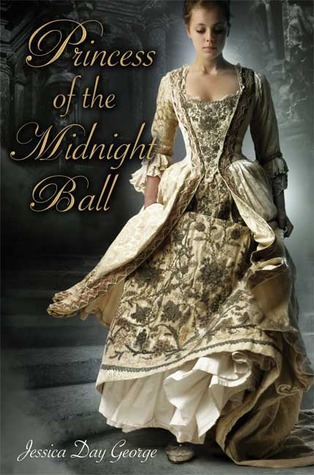 Galen is a young soldier returning from war; Rose is one of twelve princesses condemned to dance each night for the King Under Stone. Together Galen and Rose will search for a way to break the curse that forces the princesses to dance at the midnight balls. All they need is one invisibility cloak, a black wool chain knit with enchanted silver needles, and that most critical ingredient of all—true love—to conquer their foes in the dark halls below. But malevolent forces are working against them above ground as well, and as cruel as the King Under Stone has seemed, his wrath is mere irritation compared to the evil that awaits Galen and Rose in the brighter world above.
Captivating from start to finish, Jessica Day George's take on the Grimms' tale The Twelve Dancing Princesses demonstrates yet again her mastery at spinning someth
ing entirely fresh out of a story you thought you knew.
9. Cloaked by Alex Flinn
I'm not your average hero. I actually wasn't your average anything. Just a poor guy working an after-
school job at a South Beach shoe repair shop to help his mom make ends meet. But a little magic changed it all.
It all started with the curse. And the frognapping. And one hot-looking princess, w
ho asked me to lead a rescue mission.
There wasn't a fairy godmother or any of that. A
nd even though I fell in love along the way, what happened to me is unlike any fairy tale I've ever heard. Before I knew it, I was spying with a flock of enchanted swans, talking (yes, talking!) to a fox named Todd, and nearly trampled by giants in the Keys.
Don't believe me? I didn't believe it either. But you'll see. Because I knew it all was true, the second I got CLOAKED.
8. The Fairy's Return and Other Stories by Gail Carson Levine
Ever since Newbery Honor author Gail Carson Levine introduced the magical village of Snettering-on-Snoakes in the faraway Kingdom of Biddle, young readers have been laughing their way through her hilarious retellings of famous and not-so-famous fairy tales.
Now, for the first time, the six beloved Princess Tales are together in one magnificent volume:
The high jinks begin in The Fairy's Mistake, which pokes fun at a meddlesome fairy whose plans for good go terribly awry. In The Princess Test, the author spoofs the notion that a pea can prove a person's pedigree. Princess Sonora and the Long Sleep features a genius of a princess, a hundred years of snooze, two princes, and a flock of balding sheep! Cinderella is a boy in Cinderellis and the Glass Hill, and the glass slipper is a glass hill. In For Biddle's Sake, Parsley tries to forget her beloved prince and get used to life as a Biddlebum Toad. The road to happily-ever-after isn't easy when a baker's son and a princess fall in love in The Fair
y's Return.
Elements of the classics are woven into these not-so-typical retellings of "Toads and Diamonds," "The Princess and the Pea," "Sleeping Beauty," "The Princess on the Glass Hill," "Puddocky," and "The Golden Goose." The fresh and funny twists on favorite fairy tales will win the hearts and capture the imaginations of young readers everywhere.
7. Sun and Moon, Ice and Snow by Jessica Day George
When a great white bear promises untold riches to her family, the Lass agrees to go away with him. But the bear is not what he seems, nor is his castle. To unravel the mystery, the Lass sets out on a windswept journey beyond the edge of the world. Based on the Nordic legend E
ast of the Sun, West of the Moon, with romantic echoes of Beauty and the Beast, this re-imagined story will leave fans of fantasy and fairy tale enchanted by Jessica Day George.
6. Fairest by Gail Carson Levine
Once upon a time, there was a girl who wanted to be pretty . . .
Aza's singing is the fairest in all the land, and the most unusual. She can "throw" her voice so it seems to come from anywhere. But singing is only one of the two qualities prized in the Kingdom of Ayortha. Aza doesn't possess the other: beauty. Not even close. She's hidden in the shadows in her parents' inn, but when she becomes lady-in-waiting to t
he new queen, she has to step into the light—especially when the queen demands a dangerous favor. A magic mirror, a charming prince, a jealous queen, palace intrigue, and an injured king twine into a maze that Aza must penetrate to save herself and her beloved kingdom.
5. Peter and The Starcatchers by Ridley Pearson and Dave Barry
Don't even think of starting this book unless you're sitting in a comfortable chair and have lots of time. A fast-paced, impossible-to-put-down adventure awaits as the young orphan Peter and his mates are dispatched to an island ruled by the evil King Zarboff. They set sail aboard the Never Land, a ship carrying a precious and mysterious trunk in its cargo hold, and the journey quickly becomes fraught with excitement and danger.
Discover richly developed characters in the sweet but sophisticated Molly, the scary but familiar Black Stache, and the fearless Peter. Treacherous battles wit
h pirates, foreboding thunderstorms at sea, and evocative writing immerses the reader in a story that slowly and finally reveals the secrets and mysteries of the beloved Peter Pan.
4. Entwined by Heather Dixon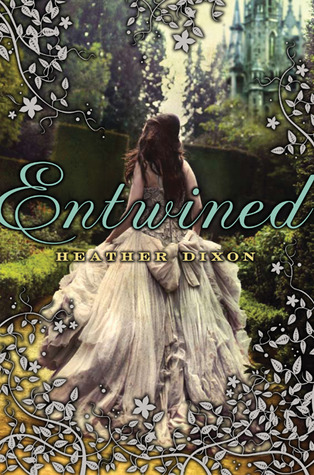 Come and mend your broken hearts here. In this retelling of the classic tale "The Twelve Dancing Prin
cesses," the eldest princess must fight to save her family—and her heart—from an ancient dark magic within the palace walls. "Full of mystery, lush settings, and fully orbed characters, Dixon's debut is both suspenseful and rewarding."—ALA Booklist
Just when Azalea should feel that everything is before her—beautiful gowns, dashing suitors, balls filled with dancing—it's taken away. All of it. And Azalea is trapped. The Keeper understands. He's trapped, too, held for centuries within the walls of the palace. So he extends an invitation.
Every night, Azalea and her eleven sisters may step through the enchanted passage in their room to dance in his silver forest, but there is a cost. The Keeper likes to keep things. Azalea may not realize how tangled she is in his web until it is too late. "Readers who enjoy stories of royalty, romance, and magic will delight in Dixon's first novel."—Publishers Weekly
3. Ella Enchanted by Gail Carson Levine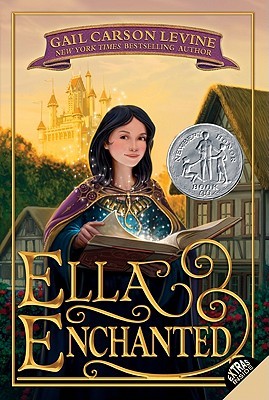 At birth, Ella is inadvertently cursed by an imprudent young fairy named Lucinda, who bestows on her the "gift" of obedience. Anything anyone tells her to do, Ella must obey. Another girl might have been cowed by this affliction, but not feisty Ella: "Instead of making me docile, Lucinda's curse made a rebel of me. Or perhaps I was that way naturally." When her beloved mother dies, leaving her in the care of a mostly absent and avaricious father, and later, a loathsome stepmother and two treacherous stepsisters, Ella's life and well-being seem to be in grave peril. But her intelligence and saucy nature keep her in good stead as she sets out on a quest for freedom and self-discovery as she tries to track down Lucinda to undo the curse, fending off ogres, befriending elves, and falling in love with a prince along the way. Yes, there is a pumpkin coach, a glass slipper, and a happily ever after, but this is the most remarkable, delightful, and profound version of Cinderella you'll ever read.
Gail Carson Levine's examination of tradit
ional female roles in fairy tales takes some satisfying twists and deviations from the original. Ella is bound by obedience against her will, and takes matters in her own hands with ambition and verve. Her relationship with the prince is balanced and based on humor and mutual respect; in fact, it is she who ultimately rescues him. Ella Enchanted has won many well-deserved awards, including a Newbery Honor.
2. Cinder by Marissa Meyer
Humans and androids crowd the raucous streets of New Beijing. A deadly plague ravages the population. From space, a ruthless lunar people watch, waiting to make their move. No one knows that Earth's fate hinges on one girl. . . .
Cinder, a gifte
d mechanic, is a cyborg. She's a second-class citizen with a mysterious past, reviled by her stepmother and blamed for her stepsister's illness. But when her life becomes intertwined with the handsome Prince Kai's, she suddenly finds herself at the center of an intergalactic struggle, and a forbidden attraction. Caught between duty and freedom, loyalty and betrayal, she must uncover secrets about her past in order to protect her world's future.
1. Beauty by Robin McKinley
A strange imprisonment...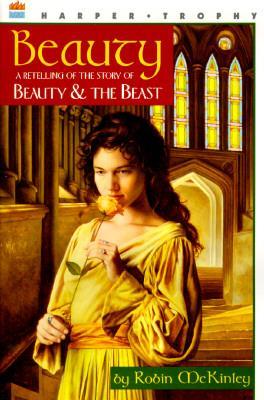 Beauty has never liked her nickname. She is thin and awkward; it is her two sisters who are the beautiful ones. But what she lacks in looks, she can perhaps
make up for in courage.
When her father comes home with the tale of an enchanted castle in the forest and the terrible promise he had to make to the Beast who lives there, Beauty knows she must go to the castle, a prisoner of her own free will. Her father protests that he will not let her go, but she answers, "Cannot a Beast be tamed?"
Robin McKinley's beloved telling illuminates the unusual love story of a most unlikely couple, Beauty and the Beast.