Rule of The Thoughts by James Dashner
Release Date: August 26th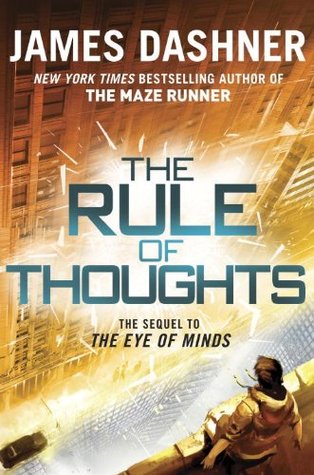 From the New York Times bestselling author of the Maze Runner series comes The Rule of Thoughts, the exciting sequel to The Eye of Minds. Fan
s of the Divergent series by Veronica Roth and The Hunger Games will love the new Mortality Doctrine series.
Michael completed the Path. What he found at the end turned everything he'd ever known about his life—and the world—completely upside down.
He barely survived. But it was the only way VirtNet Security knew to find the cyber-terrorist Kaine—and to make the Sleep safe for gamers once again. And, the truth Michael discovered about Kaine is more complex than they anticipated, and more terrifying than even the worst of their fears.
Kaine is a tangent, a computer program that has become sentient. And Michael's completing the Path was the first stage in turning Kaine's master plan, the Mortality Doctrine, into a reality.
The Mortality Doctrine will populate Earth entirely with human bodies harboring tangent minds. Any gamer who sinks into the VirtNet risks coming out with a tangent intelligence in control of their body.
And the takeover has already begun.
A Wonderlandiful World by Shannon Hale
Release Date: August 26th
At Ever After High, everyone is expected to sign the
Storybook of Legends
, pledging to follow in their fairytale parent's footsteps. But when Raven Queen came along, things became fairy, fairy confusing. Now no one's destiny is certain, not even for the most royal of them all, Apple White.When a mysterious being from Wonderland begins to infect Ever After High with a strange magic, everything goes topsy-turvy. The students transform into animals and objects, palace mice talk, and the beautiful green grounds on campus fade to black-and-white. Lizzie Hearts, Wonderland's future queen, Cedar Wood, daughter of Pinocchio, and Madeline Hatter, heir to the Mad Hatter's Hat and Tea Shoppe, seem to be the only ones who haven't completely lost their heads. It's up to them to save their best friends forever after from a curse that threatens to give their school-and their lives-a very unhappy ending.Don't miss Book #1,
Ever After High: Storybook of Legends
and Book #2,
Ever After High: The Unfairest of Them All!
35 Days of Wonder by R.J. Palacio
Release Date: August 26th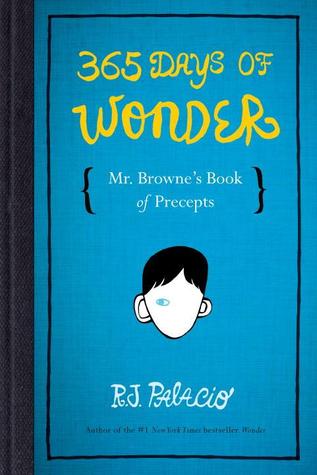 In the #1 New York Times bestselling novel Wonder, readers were introduced to memorable English teacher Mr. Browne and
his love of precepts. Simply put, precepts are principles to live by, and Mr. Browne has compiled 365 of them—one for each day of the year—drawn from popular songs to children's books to inscriptions on Egyptian tombstones to fortune cookies. His selections celebrate kindness, hopefulness, the goodness of human beings, the strength of people's hearts, and the power of people's wills. Interspersed with the precepts are letters and emails from characters who appeared in Wonder. Readers hear from Summer, Jack, Charlotte, Julian, and Amos.
There's something for everyone here, with words of wisdom from such noteworthy people as Anne Frank, Martin Luther King Jr., Confucius, Goethe, Sappho—and over 100 readers of Wonder who sent R. J. Palacio their own precepts.