The Smaller Evil by Stephanie Kuehn
Publication Date: August 2nd, 2016
Blurb:
Sometimes the greater good requires the smaller evil.
17-year-old Arman Dukoff is struggling with severe anxiety and a history of self-loathing when he arrives at an expensive self-help retreat in the remote hills of Big Sur. He's taken a huge risk—and two-thousand dollars from his meth-head stepfather—for a chance to "evolve," as Beau, the retreat leader, says.
Beau is complicated. A father figure? A cult leader? A con man? Arman's not sure, but more than anyone he's ever met, Beau makes Arman feel something other than what he usually feels—worthless.
The retreat compound is secluded in coastal California mountains among towering redwoods, and when the iron gates close behind him, Arman believes for a moment that he can get better. But the program is a blur of jargon, bizarre rituals, and incomprehensible encounters with a beautiful girl. Arman is certain he's failing everything. But Beau disagrees; he thinks Arman has a bright future—though he never says at what.
And then, in an instant Arman can't believe or totally recall, Beau is gone. Suicide? Or murder? Arman was the only witness and now the compound is getting tense. And maybe dangerous.
As the mysteries and paradoxes multiply and the hints become accusations, Arman must rely on the person he's always trusted the least: himself.
Furthermore by Tahereh Mafi
Release Date: August 30th, 2016
Blurb: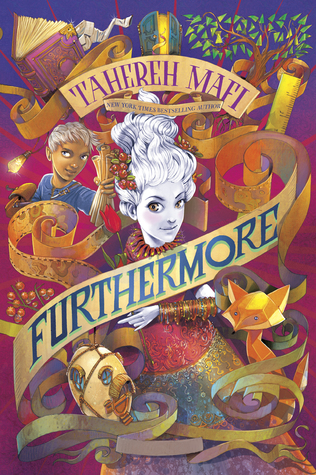 The bestselling author of the Shatter Me series takes readers beyond the limits of their imagination in this captivating new middle grade adventure where color is currency, adventure is inevitable, and friendship is found in the most unexpected places.
There are only three things that matter to twelve-year-old Alice Alexis Queensmeadow: Mother, who wouldn't miss her; magic and color, which seem to elude her; and Father, who always loved her. The day Father disappears from Ferenwood he takes nothing but a ruler with him. But it's been almost three years since then, and Alice is determined to find him. She loves her father even more than she loves adventure, and she's about to embark on one to find the other.
But bringing Father home is no small matter. In order to find him she'll have to travel through the
mythica
l, dangerous land of Furthermore, where down can be up, paper is alive, and left can be both right and very, very wrong. Her only companion is a boy named Oliver whose own magical ability is based in lies and deceit--and with a liar by her side in a land where nothing is as it seems, it will take all of Alice's wits (and every limb she's got) to find Father and return home to Ferenwood in one piece. On her quest to find Father, Alice must first find herself--and hold fast to the magic of love in the face of loss.
Enter Title Here by Rahul Kanakia
Release Date: August 2nd, 2016
Blurb:
I'm your protagonist—Reshma Kapoor—and if you have the free time to read this book, then you're probably nothing like me.
Reshma is a college counselor's dream. She's the top-ranked senior at her ultra-competitive Silicon Valley high school, with a spotless academic record and a long roster of extracurriculars. But there are plenty of perfect students in the country, and if Reshma wants to get into Stanford, and into med school after that, she needs the hook to beat them all.
What's a habitual over-achiever to do? Land herself a literary agent, of course. Which is exactly what Reshma does after agent Linda Montrose spots an article she wrote for Huffington Post. Linda wants to represent Reshma, and, with her new agent's help scoring a book deal, Reshma knows she'll finally have the key to Stanford.
But she's convinced no one would want to read a novel about a study machine like her. To make herself a more relatable protagonist, she must start doing all the regular American girl stuff she normally ignores. For starters, she has to make a friend, then get a boyfriend. And she's already planned the perfect ending: after struggling for three hundred pages with her own perfectionism, Reshma will learn that meaningful relationships can be more important than success—a character arc librarians and critics alike will enjoy.
Of course, even with a mastermind like Reshma in charge, things can't always go as planned. And when the valedictorian spot begins to slip from her grasp, she'll have to decide just how far she'll go for that satisfying ending. (Note: It's pretty far.)
A Weekend of Mondays by Jessica Brody
Release Date: August 2nd, 2016
Blurb:
When I made the wish, I just wanted a do-over. Another chance to make things right. I never, in a million years, thought it might actually come true...
Sixteen-year-old Ellison Sparks is having a serious case of the Mondays. She gets a ticket for running a red light, she manages to take the world's worst school picture, she bombs softball try-outs
and
her class election speech (note to self: never trust a cheerleader when she swears there are no nuts in her bake-sale banana bread), and to top it all off, Tristan, her gorgeous rocker boyfriend suddenly dumps her. For no good reason!
As far as Mondays go, it doesn't get much worse than this. And Ellie is positive that if she could just do it all over again, she would get it right. So when she wakes up the next morning to find she's reliving the
exact
same day, she knows what she has to do: stop her boyfriend from breaking up with her. But it seems no matter how many do-overs she gets or how hard Ellie tries to repair her relationship, Tristan always seems bent set on ending it. Will Ellie ever figure out how to fix this broken day? Or will she be stuck in this nightmare of a Monday forever?
From the author
52 Reasons to Hate My Father
and The Unremembered trilogy comes a hilarious and heartwarming story about second (and third and fourth and fifth) chances. Because sometimes it takes a whole week of Mondays to figure out what you really want.
The Thousandth Floor by Kat
harine McGee
Release Date: August 30th, 2016
Blurb:
New York City as you've never seen it before. A thousand-story tower stretching into the sky. A glittering vision of the future, where anything is possible—if you want it enough.

Welcome to Manhattan, 2118.
A hundred years in the future, New York is a city of innovation and dreams. But people never change: everyone here wants something…and everyone has something to lose.
Leda Cole's flawless exterior belies a secret addiction—to a drug she never should have tried and a boy she never should have touched.
Eris Dodd-Radson's beautiful, carefree life falls to pieces when a heartbreaking betrayal tears her family apart.
Rylin Myers's job on one of the highest floors sweeps her into a world—and a romance—she never imagined…but will her new life cost Rylin her old one?
Watt Bakradi is a tech genius with a secret: he knows everything about everyone. But when he's hired to spy by an upper-floor girl, he finds himself caught up in a complicated web of lies.
And living above everyone else on the thousandth floor is Avery Fuller, the girl genetically designed to be perfect. The girl who seems to have it all—yet is tormented by the one thing she can never have.
Debut author Katharine McGee has created a breathtakingly original series filled with high-tech luxury and futuristic glamour, where the impossible feels just within reach. But in this world, the higher you go, the farther there is to fall….