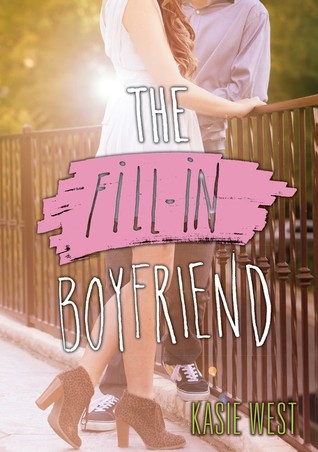 Kasie West is my favorite contemporary romance author. Her stories never fail to make me laugh and tug at my heartstrings. The wonderful thing about her stories is that they always have a second layer- the entire purpose of the story is never the element of romance itself. Her stories are family oriented and have strong underlying messages of life, self-acceptance, and love.
In The Distance Between Us
, (my personal favorite) Caymen questions the absence of her father in her life and how she can continue to support her mother. In
On The Fence,
Charlie struggles to find her femininity in a house with only brothers and her father.
The Fill-In Boyfriend
is similar to all of West's previous stories in that it also contains another layer of solemness that adds a serious tone to the story. On the surface, the story is light and fluffy. Gia, the main character, is dumped by her boyfriend, Bradley, only a few minutes before prom begins.
Gia is faced with a big problem. None of her friends have ever met Bradley; he lived far away, and she always went up to see him. For the past couple months, one of the most popular girls in school has been telling everyone that Bradley is simply a lie, a perfect boyfriend that Gia made up to make everyone else jealous. Afraid of being ridiculed, she does the only thing she can think of.
She sees a boy around her age drop off his younger sister. Before he can drive away, she stops him and proposes a deal. If he will pretend to be her boyfriend, only for the night, she will owe him a favor in return.
He raised his eyebrows. "I'm sure there are services for that. Maybe you can try calling 1-800-HOOKERS or something?"
"You know the number well?"
After some persuading, the mystery boy finally agrees. They go in together, he pretends to be Bradley, and everything happens perfectly, much to Gia's relief. At the end of the night, she thanks him and they go their separate ways, back to their own lives.
At least, maybe that's what Gia thinks- and she is dead wrong. Soon after prom night, he calls in a favor, or rather, his sister does. Gia reluctantly agrees [what else can she do?] and attends a party with Fill-In Bradley.
This story was definitely not perfect. In the beginning of the book, Gia was incredibly vain and selfish. I found her character annoying- to the point that I had to resist the urge to bash my head against the wall.
Luckily, she went through some fantastic character development. At the end, she went through an epiphany and figured out most of her problems with life. She did some deep soul searching, and I have a feeling that she liked who she had become.
Fill-In Bradley was definitely the best part of the entire story. He was a total
nerd,
which is refreshing to see in male characters! I fell in love with him at the very first scene simply because he was wearing a Tardis shirt. He was polite and kind without being completely infatuated and gaga over her.
"This is Gia, by the way, Mom."
"Oh, I'm sorry, where are my manners?" She extended her hand to me. "I'm Olivia. I'm sorry for stealing this boy away but I need his gorgeous face. I mean, tell me that face doesn't inspire creativity."
Both [Fill-In Bradley] and Bec rolled their eyes.
"She says that every time she pulls us in here and then she creates things like that." He pointed to a painting of a half-insect, half-zebra face splitting open to reveal a blooming flower.
"My face did not inspire that."
Once again, West has completely captivated me with a light, cheesy romance that's a bunch of fun to read. If you need a stress free book, pick it up and start reading. I ate this up like peanut butter m&ms!