I know that I've really sucked at posting in the last few months... this summer has been very busy.. I've been out camping a lot and haven't had any wifi in order to post. Now that I'm finally home, I thought I would post a few things within the next few days!! Here are the books coming out in July and August!!
Go Set A Watchman by Harper Lee
Release Date: July 14th
Originally written in the mid-1950s,
Go Set a Watchman
was the novel Harper Lee first submitted to her publishers before
To Kill a Mockingbird
. Assumed to have been lost, the manuscript was discovered in late 2014.
Go Set a Watchman
features many of the characters from
To Kill a Mockingbird
some twenty years later. Returning home to Maycomb to visit her father, Jean Louise Finch—Scout—struggles with issues both personal and political, involving Atticus, society, and the small Alabama town that shaped her.
Exploring how the characters from
To Kill a Mockingbird
are adjusting to the turbulent events transforming mid-1950s America,
Go Set a Watchman
casts a fascinating new light on Harper Lee's enduring classic. Moving, funny and compelling, it stands as a magnificent novel in its own right.
The Heartbreakers by Ali Novak
Release Date: August 4th
"When I met Oliver Perry, I had no clue he was the lead singer for The Heartbreakers. Unbeknownst to him, I was the only girl in the world who hated his music."
Stella will do anything for her sister—even stand in line for an autographed Heartbreakers CD... for three hours. At least she met a cute boy at the Starbucks beforehand. A blue-eyed boy who looks an awful lot like...
Oliver Perry. Of course Starbucks guy is the lead singer for her least favorite band. Thanks, universe. But there may be more to Oliver than his world-famous charm, because even after she insults his music—to his face—he still gives her his number. Seriously, what is her life?
But how can Stella even think about being with Oliver—dating and laughing and pulling pranks with the band—when her sister could be
dying of cancer?
The Rest of Us Live Here by Patrick Ness
Release Date: August 27th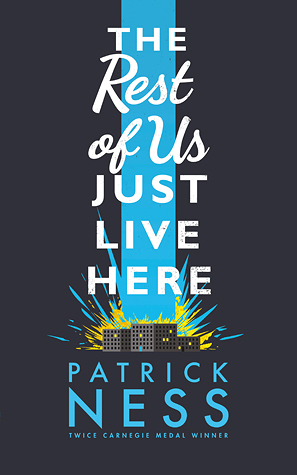 What if you aren't the Chosen One?

The one who's supposed to fight the zombies, or the soul-eating ghosts, or whatever the heck this new thing is, with the blue lights and the death?

What if you're like Mikey? Who just wants to graduate and go to prom and maybe finally work up the courage to ask Henna out before someone goes and blows up the high school. Again.

Because sometimes there are problems bigger than this week's end of the world, and sometimes you just have to find the extraordinary in your ordinary life.

Even if your best friend is worshiped by mountain lions.

Award-winning writer Patrick Ness's bold and irreverent novel powerfully reminds us that there are many different types of remarkable.